3 major Dutch cities partner with Vianova to optimize the integration of shared mobility services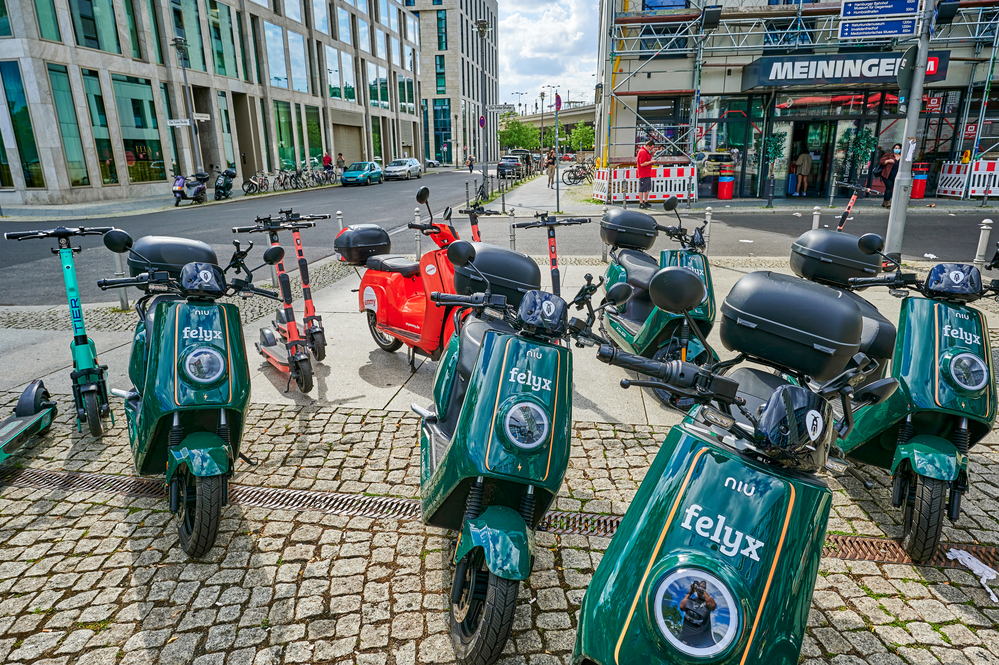 The cities of Amsterdam, Utrecht and Eindhoven chose to team up with the mobility data platform Vianova to ensure efficient and safe integration of new shared mobilities. Through this partnership, the European startup is helping the three Dutch cities improve their collaboration with mobility operators through data insights. 
The Netherlands is one of the most advanced countries in terms of sustainable mobility. In a country where more than half of the inhabitants declare to ride a bike at least twice a week, the development of new shared mobility offers a significant potential to further decarbonize cities' transportation systems. With more than 5,000 shared mobility devices in the capital city alone, and numerous infrastructures dedicated to active mobility in the country, the Netherlands maintain their status as a pioneer country for carbon neutral transport. 
Partnering with mobility data platform Vianova, the cities want to understand how new sustainable modes of travel can be developed in complementarity with existing public transport offers. Today, this challenge cannot be met without having a thorough understanding of the mobility data which is crucial to implement public policies that guarantee the efficiency and safety of the transport system. Amsterdam, Utrecht and Eindhoven partnered with Vianova to bridge the communication gap between public authorities and mobility operators. The cities want to define the best policies and urban planning for new mobility services thanks to actionable data insights.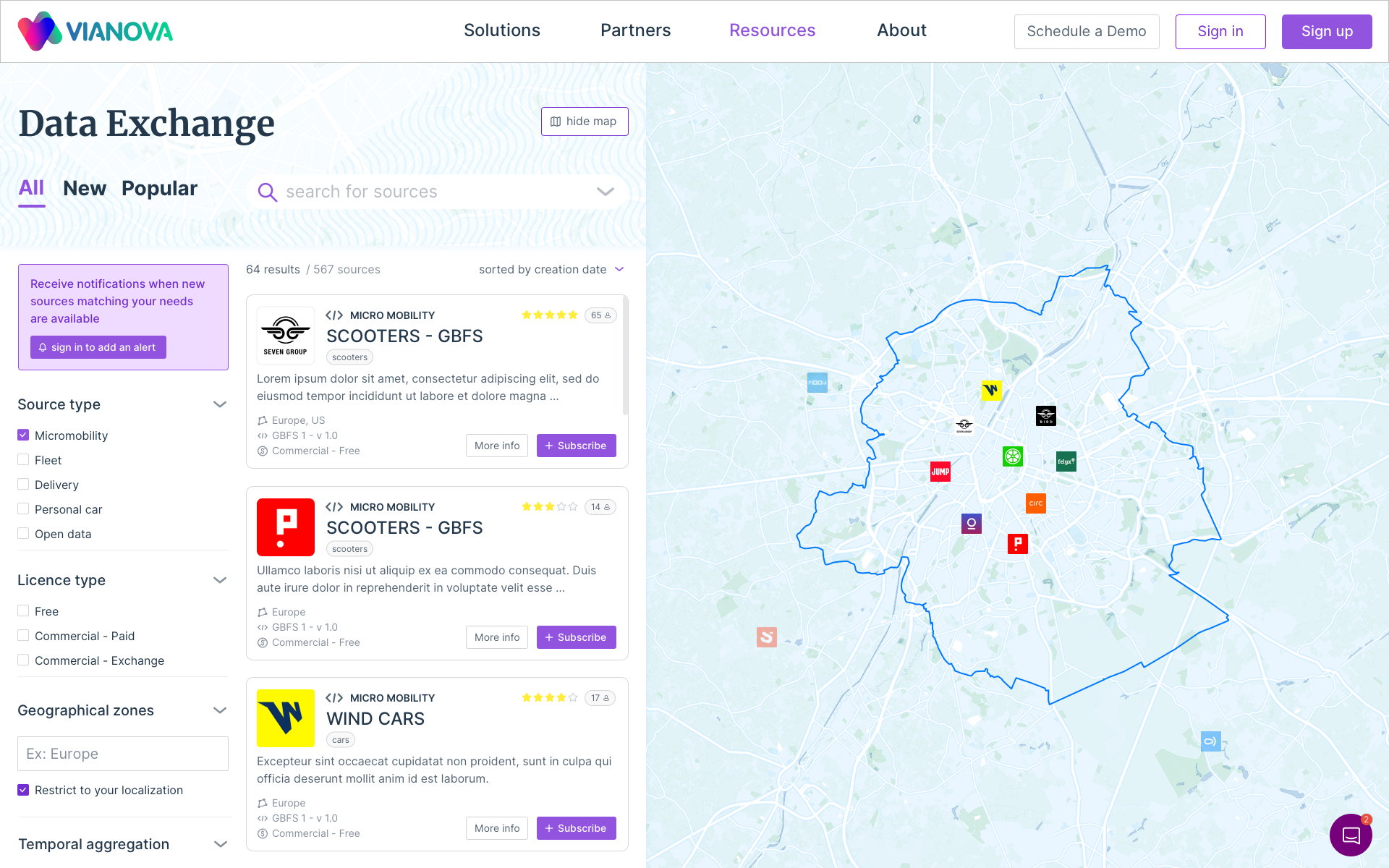 These insights are derived from mobility data feeds that Dutch cities can easily retrieve from Vianova's Data Exchange, where data providers can accept or decline different data requests, visualize the use cases for this data, etc. All mobility providers in the Netherlands are already sharing their data with cities through this marketplace, and more transport practitioners are joining the marketplace on a continuous basis, adding feeds from various industry segments, including automotive manufacturers and Charge Point Operators (CPO). This will keep unlocking more use cases beyond shared micro-mobility management, e.g. road safety intelligence, curb space management or infrastructure planning. 
Since early 2022, Vianova has been helping the three Dutch cities achieve various use cases:
Monitoring moped flows into and out of Amsterdam's adjacent cities: trips starting or ending outside of Amsterdam are one of the most popular uses of mopeds in the city, accounting for 6 of the 12 most popular origin and destination pairings. The City uses the Vianova platform to identify these trends and understand the impact on the overall fleet size within the city as a result of these inflows and outflows.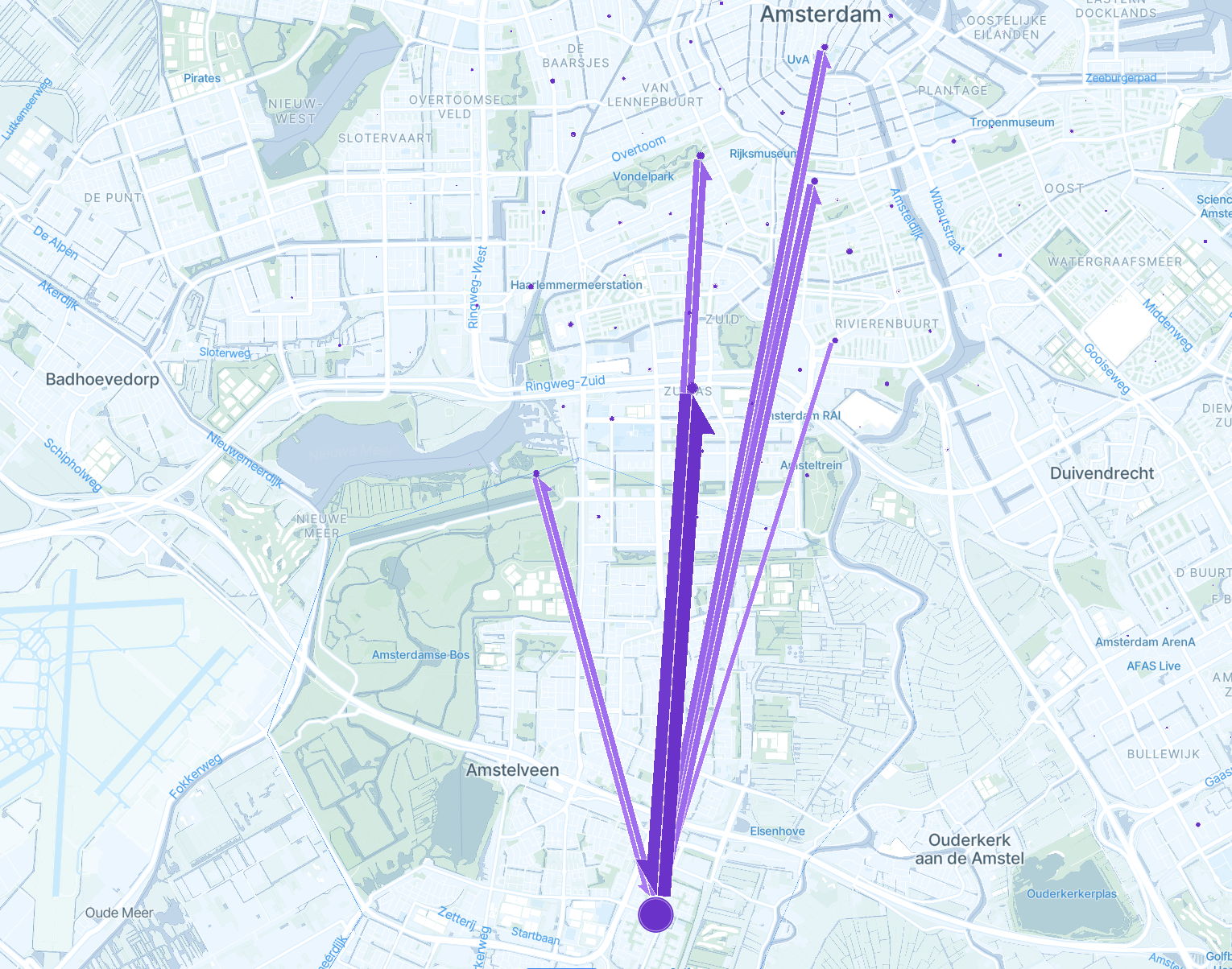 Designing parking policies to improve public order in Utrecht: communication between the City and its mobility provider, Tier, is critical to the success of the shared mobility program. Utrecht uses Vianova's tools to publish information about the location of approved parking zones for bicycles and mopeds, and to notify Tier when devices are parked out-of-bounds in order to minimize citizens complaints.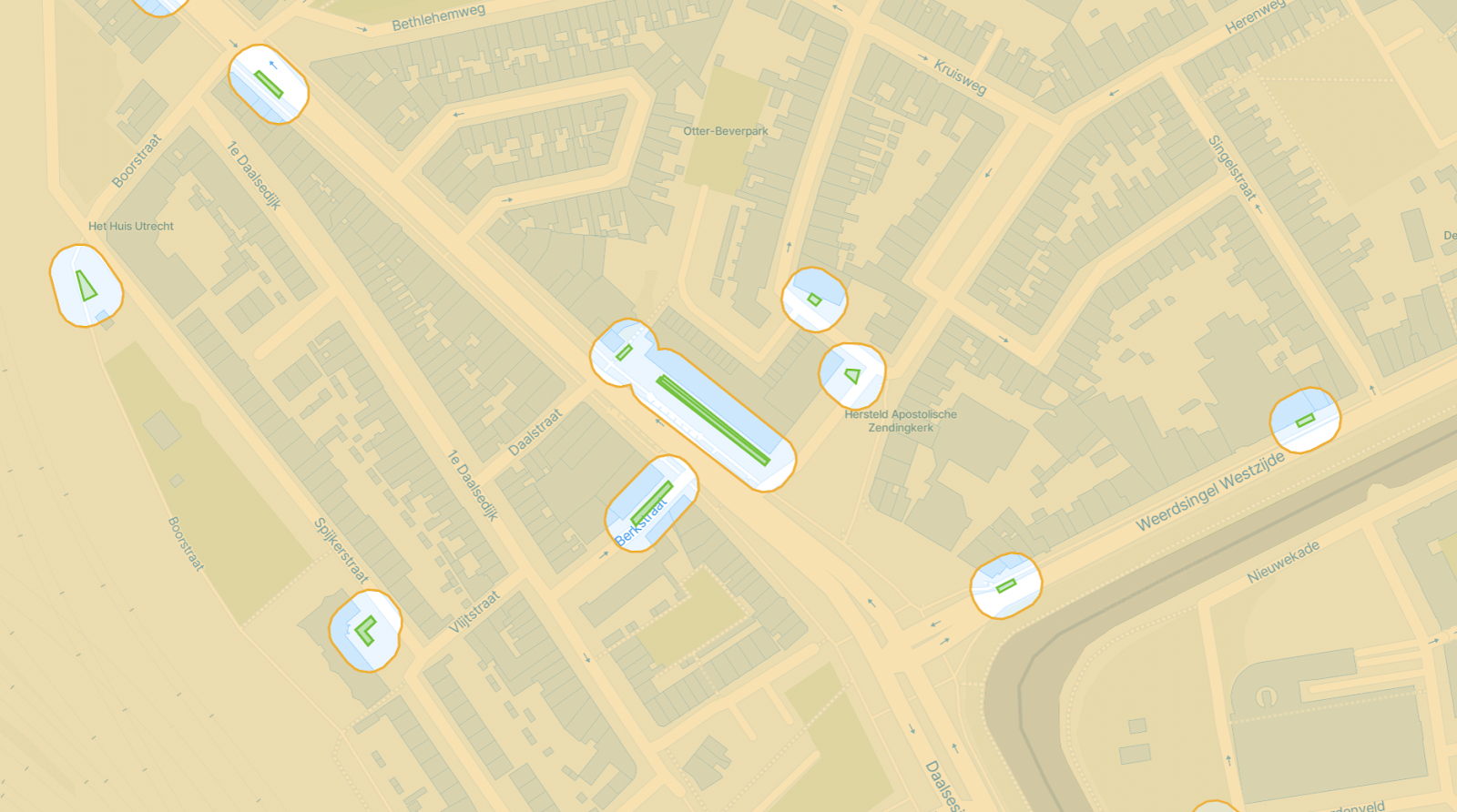 Taking a multimodal approach to shared mobility in Eindhoven: with both bicycles and mopeds from different providers, Eindhoven uses the Vianova platform to understand the comparative impact between mode types. Evaluating metrics such as trip distance, duration, and frequency, the City is able to develop a better understanding of how the two micro-mobility modes serve different niches in the region's transportation ecosystem.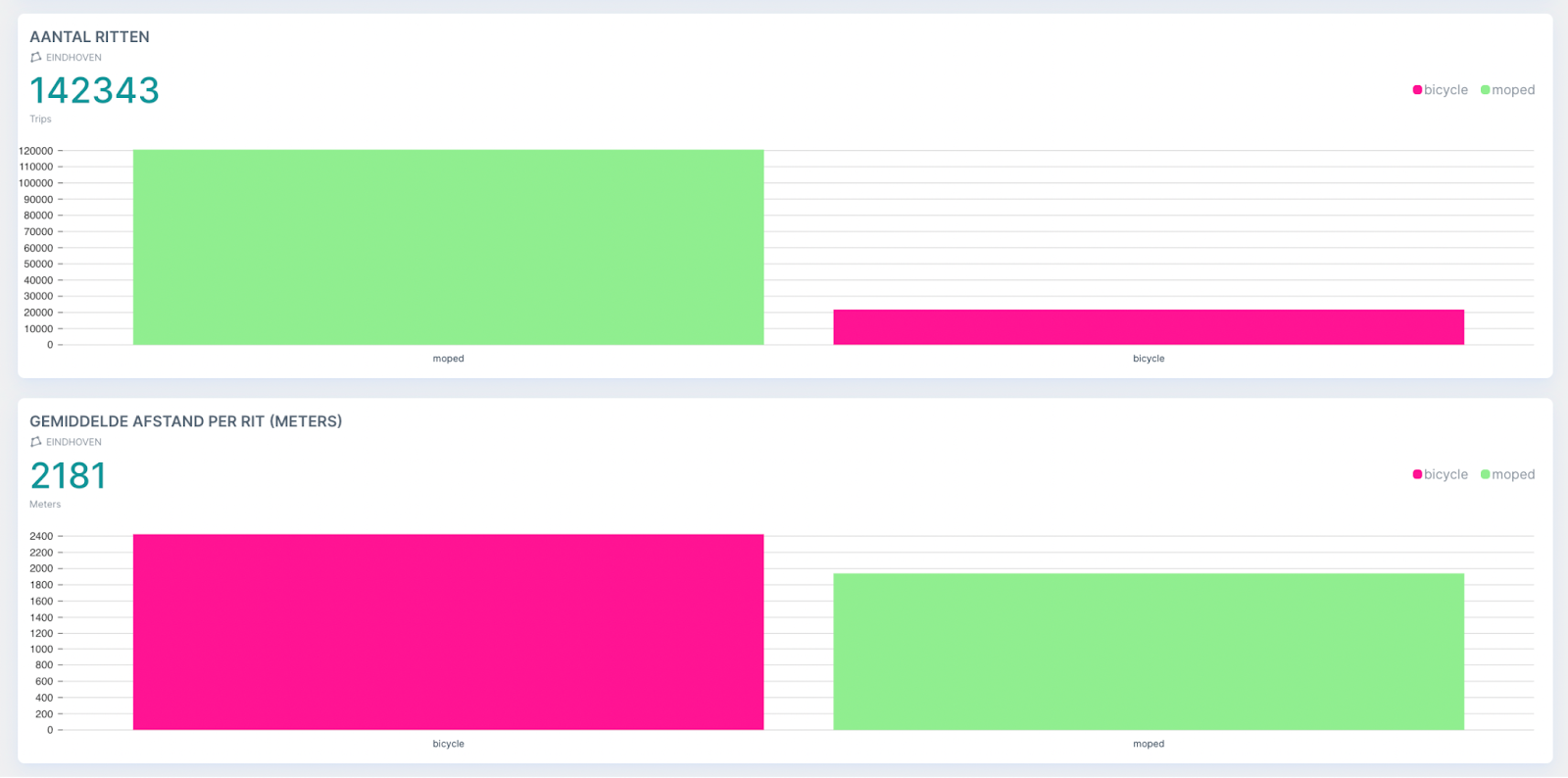 The Dutch cities are also at the forefront of research on how to make transportation more sustainable. The City of Amsterdam is among the first users of Vianova's new CO2 emissions monitoring and reduction tool. This new AI-powered feature facilitates the dynamic distribution of shared fleets across multiple modes. It enables cities to identify policies that would help achieve the highest CO2 reduction when balanced against other priorities of the city. The tool represents a huge potential for both transport providers and cities to design the most efficient transportation system possible while curbing carbon emissions.
The Dutch mobility ecosystem is paving the way for the development of new shared mobility policies and is very aware that this revolution cannot be achieved without an extensive and effortless exchange of data. To that extent, Vianova's data platform and data exchange have been built to be future proof in order to enable the best governance and transparency within the ecosystem. Moreover, the country's largest cities are currently working on a national mobility data standard, the CDS-M format, which Vianova is able to support in order for them to improve public authorities' understanding and mobility policy management options. 
---
Notes for editors 
About Vianova
Vianova is the trusted mobility intelligence platform for mobility providers and cities to achieve CarbonZero and VisionZero. Our platform helps multiple clients foster greener and safer streets while optimizing their operations' economics. Through its platform and API suite, Vianova serves 100 cities, transport providers and enterprises across the globe, thus enabling the offset of 5 millions tons of CO2 every year. Vianova has offices in Paris, Zürich, London, Berlin and Dover (USA).