Mobility data platform Vianova raises €1.8 million to help cities build their post-covid transport systems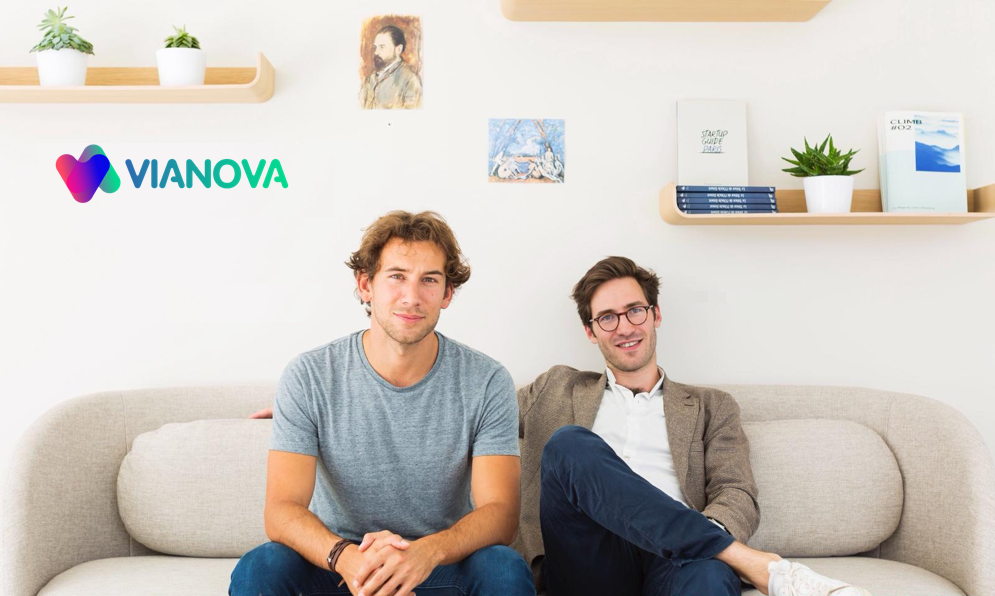 Paris-based startup Vianova has recently closed a €1.8 million seed round led by RATP Capital Innovation and Contrarian Ventures to improve collaboration between cities and shared mobility operators, as well as to promote more efficient use of public space.
With the rise of new urban mobility solutions, such as e-scooters and last-mile delivery services, access to already scarce public space has become a major challenge for cities. In order to foster the development of these services and their potential to facilitate access to low-carbon mobility for all citizens, operators and cities are looking to work together closely and confidently.
Set up in 2019, Vianova has quickly become a trusted third party data platform, facilitating mobility data sharing between 10 cities and 20 mobility operators across Europe. Thanks to Vianova's platform, API suite, and policy knowledge, cities can make better, data-driven decisions about transport and urban planning.
The platform already accounts for more than two million trips per month, with city partners including Brussels, Helsinki, Zürich and Stockholm. In addition, Vianova recently joined what will become the world's largest urban logistics and curbside management project, working with the Paris Region. Leading mobility operators – including Bird, Voi and Bolt - have also chosen to partner with Vianova to improve the compliance and operational efficiency of their fleets, and to enable new business opportunities. 
"The rapid development of urban mobility is challenging cities in the way they organise public space. Our city partners now consider data as an essential tool of their governance, and our close collaboration on this subject has led to the development of increasingly advanced use cases" commented Thibault Castagne, co-founder & CEO of Vianova. "Mobility operators also understand the major role that cities can play in their development and success. Over the past few months, our work to bring these two worlds closer together has been extremely exciting, and we are delighted to be joined by RATP Capital Innovation and Contrarian Ventures in this journey."
"After meeting the team in Paris a year ago and watching their tremendous progress since then, we are very excited to invest into Vianova" says Contrarian Ventures Partner Tomas Kemtys. "The company has essentially created an "air traffic control room" that enables a much better integration and collaboration between cities and mobility operators: the pandemic has only accelerated the multiple trends around sustainable mobility and Vianova will play the key role in bringing them to reality". 
This new capital will enable the company to expand its European footprint and target new, adjacent markets. Vianova will integrate more mobility modes (e.g. carsharing, robot taxis, drones, etc.) and develop new use cases within the transport ecosystem, such as new connections to MaaS initiatives. In these regards, RATP Group will be a key growth partner, thanks to its international presence and leadership in the area of urban mobility. Contrarian Ventures brings its expertise as the most active energy tech and mobility fund in Europe.
---
About Vianova:
Vianova is a data platform that helps cities better integrate and manage shared, connected, electric and autonomous transport solutions in the urban space, enabling better use of city infrastructure, and promoting ​ safer and more sustainable mobility. 
(To find out more: https://www.vianova.io/)
About Contrarian Ventures:
Contrarian Ventures is an early-stage European venture capital fund focusing on investments in emerging technologies in energy tech and mobility sectors. The fund has already invested in 17 companies across the globe including the UK, Norway, Sweden, France, Israel and the Baltics. Aside from the core activity of the Fund – investing, Contrarian Ventures has also founded a number of initiatives that are contributing to the fostering of an energy community in Europe.
(To find out more: https://www.cventures.vc/)
About RATP Capital Innovation:
Created in 2017, RATP Capital Innovation is the RATP Group's subsidiary dedicated to investing in SMEs and startups in the new mobility and Smart City sectors.
Since its launch, RATP Capital Innovation has invested in 4 companies around shared mobility: electric mopeds with Cityscoot, car-sharing with Communauto, commute carpooling with Klaxit and connected shared car parks with Zenpark. RATP Capital Innovation is also involved in the logistics sector with a brand new urban logistics offer to facilitate last-mile delivery.
(To find out more: https://www.ratp.fr/ratpci)
Press Contacts:
​ ​ ​ ​ ​ ​ ​ ​ ​ ​ ​ ​ ​ ​ ​ ​ ​ Vianova ​ ​ ​ ​ ​ ​ ​ ​ ​ ​ ​ ​ ​ ​ ​ ​ ​ ​ ​ ​ ​ ​ ​ ​ ​ ​ ​ ​ ​ ​ ​ RATP Group ​ ​ ​ ​ ​ ​ ​ ​ ​ ​ ​ ​ ​ ​ ​ ​ ​ ​ ​ Contrarian Ventures
Claire Delzescaux, PR Manager
​ [email protected] ​ ​ ​ ​ ​ ​ ​ ​ ​ [email protected] ​ ​ ​ ​ ​ ​ ​ ​ ​ ​ [email protected]
​ ​ ​ ​ ​ ​ ​ ​ ​ ​ +33 7 60 72 87 11 ​ ​ ​ ​ ​ ​ ​ ​ ​ ​ ​ ​ ​ ​ ​ ​ ​ ​ ​ ​ ​ ​ ​ +33 1 58 78 37 37 ​ ​ ​ ​ ​ ​ ​ ​ ​ ​ ​ ​ ​ ​ ​ ​ ​ ​ +370 676 14313