Vianova and Fenix partnership to boost real-time mobility data in the Middle East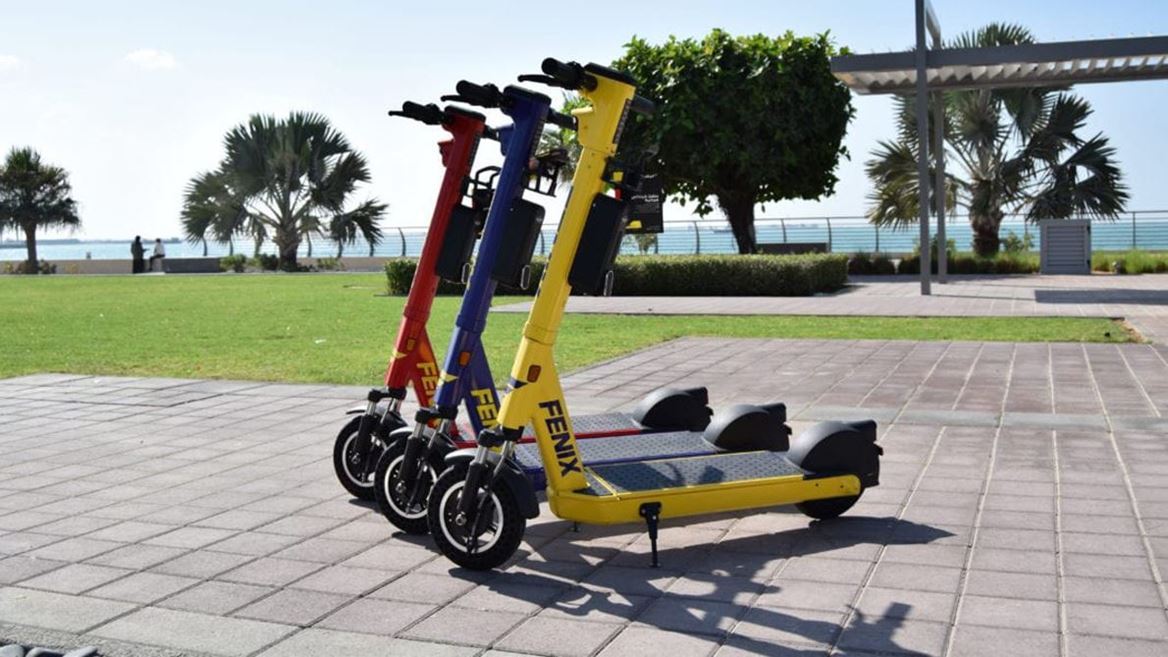 Vianova's mobility analytics platform leverages millions of data points from 1 million+ connected vehicles worldwide to generate real-time transport insights 
The European tech company is announcing a new strategic partnership with shared transport provider FENIX to cover the largest fleet of electric vehicles in the Middle East
FENIX will utilize Vianova's data platform to shape its multimodal planning and fleet management in countries including the UAE, Saudi Arabia, Qatar and Bahrain 
With 80% of residents residing in cities across the region, there is a need for collaborative decision-making on urban transport to improve quality of living and meet net-zero targets
Abu Dhabi, 17 November 2022: Vianova, the collaborative Big Data platform powering mobility innovation, is today announcing a strategic partnership with the electric mobility and deliveries platform FENIX, to bring mobility leadership to the Middle East. FENIX will utilize Vianova's mobile analytics software across five countries, including UAE, Saudi Arabia, Qatar, and Bahrain, to derive insights into its fleets across the region and improve collaboration with cities.
The Middle East is steadily becoming one of the most exciting markets for new mobility solutions, including micromobility. With over 80% of the population across the region living in urban areas, there is a need to provide environmentally-friendly mobility in cities to meet pressing net-zero targets. It was this demand for future mobility solutions that led to the founding of FENIX in 2020, initially as a shared e-scooter operator, which has since expanded into on-demand grocery delivery and ride-hailing services, and now covers the largest fleet of electric vehicles in the region. 
With the rise in demand for its micromobility and on-demand services across the board, FENIX was looking for a partner that could provide the data insights and analytics to enable better fleet operations as well as support its expansion strategy and collaboration with cities. As an expert in connected vehicle data, Vianova is providing that solution to FENIX to support its needs and unlock the power of real-time mobility data for people and goods in the Middle East.
Using data to make cities greener, safer and more efficient
Vianova was founded in 2019 by Thibault Castagne, Thibaud Febvre, and Frédéric Robinet to make urban transport safer and more sustainable. The cloud-based mobility analytics platform leverages IoT and data from one million+ connected vehicles every day to provide public and private organizations, including mobility providers, cities and infrastructure managers, to enable them to collaborate and build solutions that turn complex data into intelligence for solving the most pressing mobility challenges. 
From providing geo-fencing technology to ensure connected vehicles are parking in the right drop-off zones and enforcing speed limits, to generating insights so operators can capture demand and increase use at the right time, Vianova has become the essential partner to micromobility operators including Voi, Bolt and Beam as well as cities.
The partnership with FENIX is the first for Vianova in the Middle East. FENIX will use the platform to better integrate its micromobility vehicles into cities, identifying opportunities for new micromobility infrastructure, e-scooter parking and geofencing technology to improve safety. FENIX will be able to share this data through Vianova's Data Exchange with cities across the region to empower collaboration and shape urban planning to transform transport. 
Thibault Castagne, co-founder and CEO of Vianova, said: "We're delighted to be launching this strategic partnership with FENIX. In a short space of time, FENIX has become the leader in connected and electric vehicle fleets across the Middle East. Together we want to use technology and innovation to make cities safer, greener and more efficient and our big data platform is the best way to achieve that. We look forward to working closely with Jaideep and the FENIX team to enable mobility innovation across the region." 
Jaideep Dhanoa, co-founder and CEO of FENIX, said: "We're building the mobility super app for the Middle East to unleash urban potential and propel communities forward. Having the right data and being able to draw insights and analytics to enable us to grow sustainably and work with our partners effectively is key to this. Vianova is the ideal partner to help us support our city partners in their transformation into a multimodal, net zero transportation network that drives improved economic activity, business competitiveness and quality of living. We look forward to using the platform to support our partnerships with cities across the region." 
---
Notes for editors 
About Vianova
Vianova is the collaborative big data platform for mobility innovation. Our toolbox empowers organizations to effectively collaborate, use and build solutions that turn complex data into intelligence for solving the most pressing transportation challenges. Vianova supports organizations in writing the next chapter of transport history: from managing shared mobility to taming the chaos at the curb; from creating safer roads to shifting travelers to more sustainable modes, Vianova serves 150+ public authorities and private companies who are trying to move people and goods in a smarter way.
For more information: www.vianova.io
About FENIX 
Jaideep Dhanoa and IQ Sayed, former executives at Grab, Lyft and Careem, created FENIX with a mission to unleash urban potential and propel communities forward. FENIX is committed to the Greater Middle East region – to transform the way our cities move and ignite impactful commerce. 
With a multimillion-dollar investment in talent, technology and operations excellence tailored for the Greater Middle East, the Abu Dhabi company delivers dependable, highest-quality rides with custom-made personal light electric vehicles, to make cities easier to navigate and more enjoyable to explore. 
In addition to pioneering the shared e-scooter services in the Middle East, FENIX has launched the region's first private e-scooter subscription service, MyRIDE, the region's first ultrafast grocery delivery service, FENIX Market, the local errands service, FENIX Genie, a ride-hailing service, FENIX Taxi, and operates the largest fleet of light electric vehicles in the Middle East. 
For more information, please visit http://fenix.life