Vianova and Rebel launch a new AI tool for CO2 emissions reduction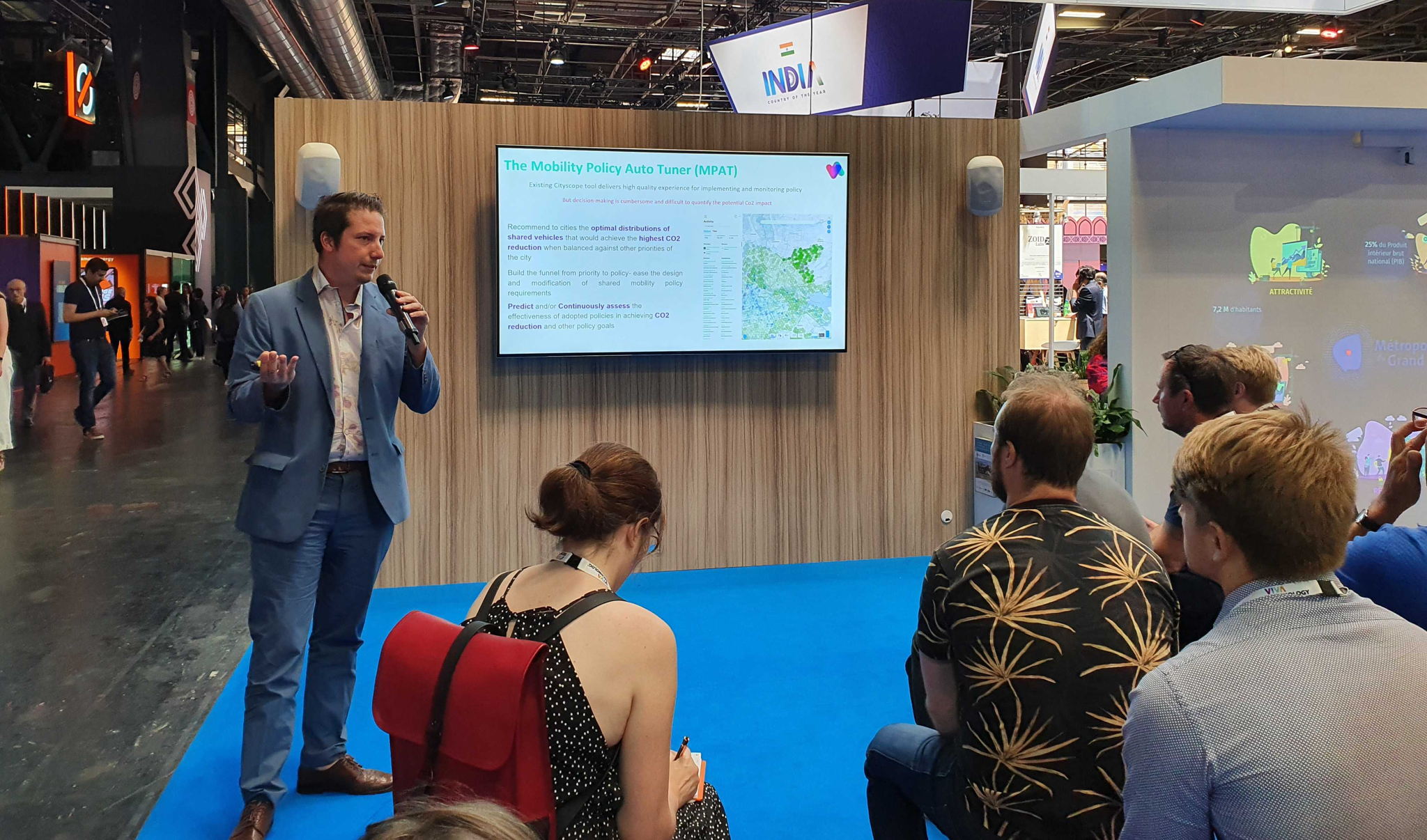 Paris based tech company Vianova just released an innovative tool to measure and reduce carbon emissions due to overall transportation in cities. This tool powered with advanced AI algorithms is designed to help cities and mobility operators efficiently curb transport CO2 emissions by identifying areas where shared mobility can be deployed to maximise chances of mode shift from private cars.
This new tool, Mobility Policy Auto-Tuner, has been developed in collaboration with global transport consultancy Rebel Group, and is built on top of Vianova's platform in order to map carbon reduction potential across cities.
This feature represents a significant potential for urban planners in cities to incentivize mobility operators to deploy vehicles in the "right" areas - where it would lead to maximum net CO2 savings. With the MPAT feature they can:
identify those areas where regulations or infrastructure (such as mandatory device rebalancing, or a mobility hub) should be implemented in order to nudge citizens into greater shared mobility usage, shifting travel to light low-carbon travel modes
anticipate the "alternative carbon footprint" of a trip that would be taken by a shared transport mode
model the potential impact of the policy from a CO2 perspective over time
monitor whether the implemented policies truly achieve the predicted CO2 emissions reductions
recalibrate the AI algorithm to suggest better regulations given the tracked outcomes
Operating in more than 60 cities across the globe, Vianova was able to model potential carbon savings and forecast that the MPAT feature could help cities save up to 1'000 tons of CO2 per city yearly, representing more than 10% of the average total carbon footprint in these cities. This considerable potential would substantially participate in the global sustainability goals of reducing transport emissions by 30% by 2030 to stay below the +2 C° threshold according to the 2022 IPCC Global Report. 
Through the European Commission-funded Ai4Cities project, Vianova's tool is currently being implemented through collaborative development with the cities of Amsterdam and Tallinn, alongside the shared mobility providers operating there. 
Alex Pazuchanics, Vianova's Head of Policy and the project manager for the Ai4Citities initiative, expressed excitement about this forward-thinking tool:
"As a former policymaker, I think one of the biggest challenges you have is to actually quantify the impact of your interventions, particularly around CO2. So we're trying to give cities and mobility providers both a reasonable projection beforehand and good monitoring during implementation, rather than making them wait years for a carbon accounting. This process can get infrastructure built and policies implemented much quicker, generating emissions savings sooner."
Ditti Osikovicz, Mobility Data Lead at Rebel Group added: 
"We're excited to bring our expertise to this work. Applying machine learning to vexing policy problems opens up new possibilities to move faster and make more of an impact in our cities".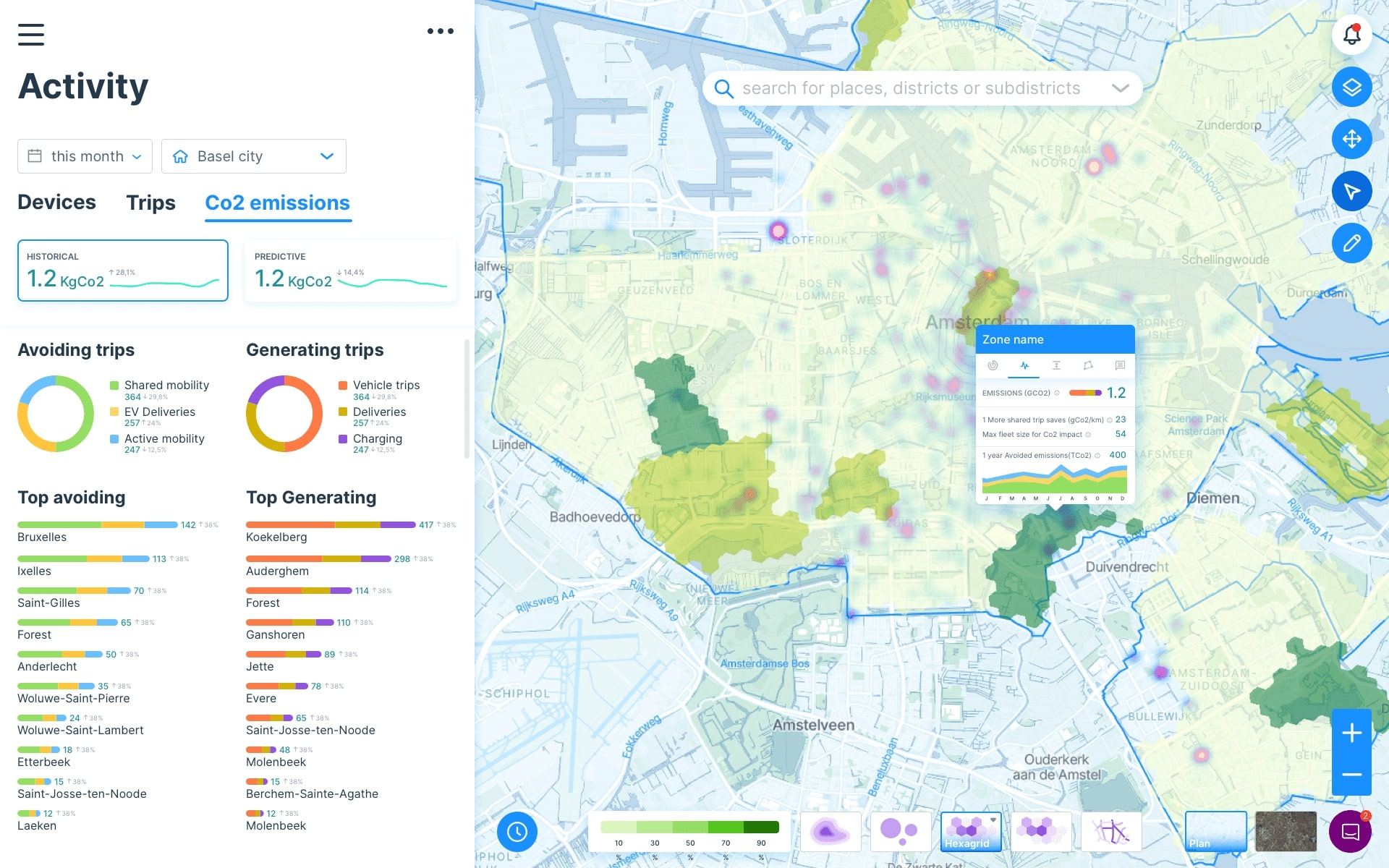 This innovation participates in Vianova's global mission to support low-carbon mobility solutions and improve shared mobility devices' integration into cities' transport systems to progressively remove cars from city centres. Vianova will seek to expand the usage of this feature to other cities in order to boost the transition to more sustainable, space efficient and human-scale modes of transport.
---
Notes for editors 
About Vianova
Vianova is the trusted mobility intelligence platform for mobility providers and cities to achieve CarbonZero and VisionZero. Our platform helps multiple clients foster greener and safer streets while optimizing their operations' economics. Through its platform and API suite, Vianova serves 100 cities, transport providers and enterprises across the globe, thus enabling the offset of 5 millions tons of CO2 every year. Vianova has offices in Paris, Zürich, London, Berlin and Dover (USA).
Video Presentation: Manage connected vehicles data for greener, safer and more sustainable streets