Vianova raises €6 million to make global transport safer, greener, and more efficient through its collaborative mobility data platform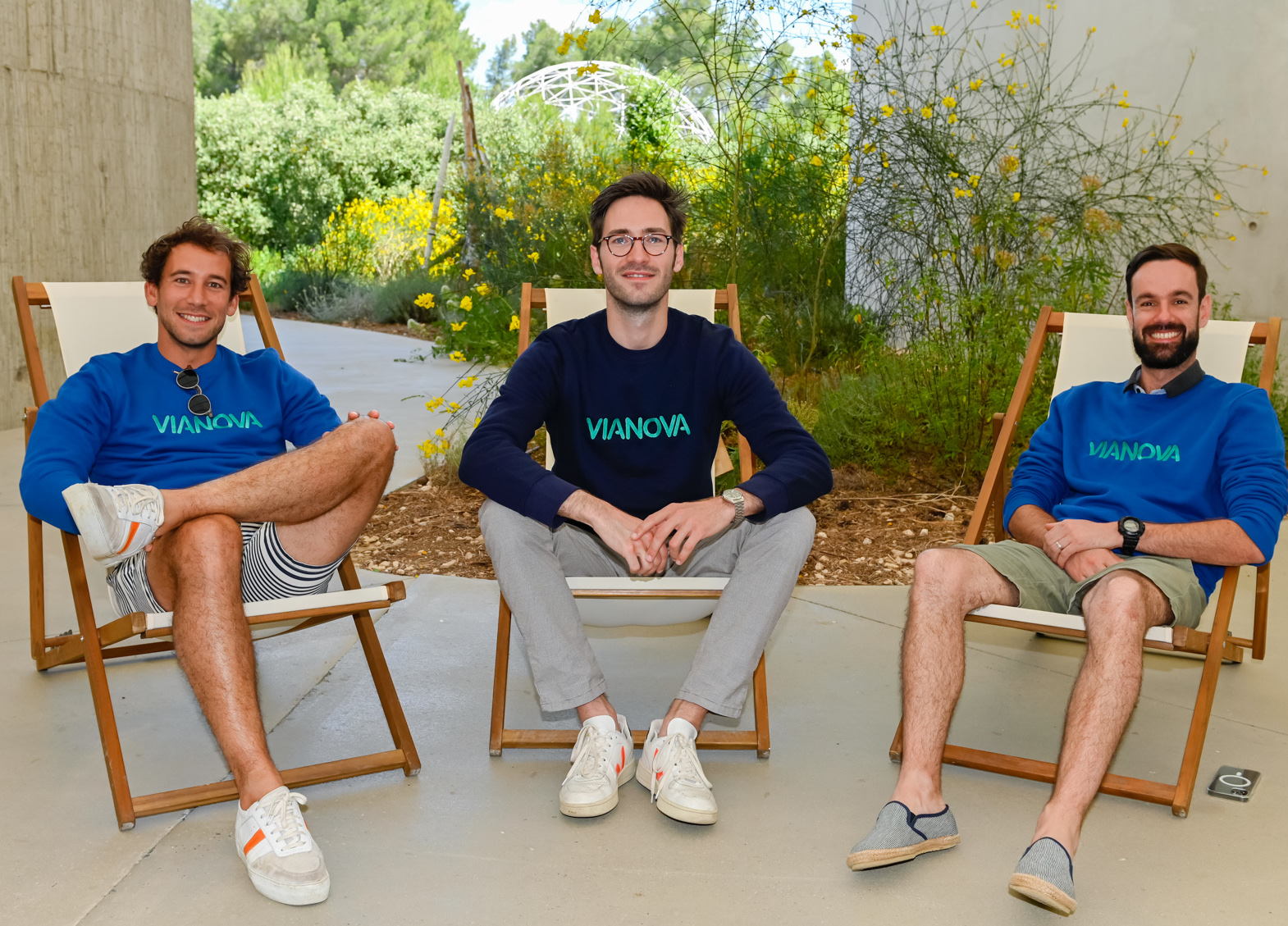 Vianova enables public and private organizations to effectively collaborate, use and build solutions that turn complex data into intelligence for solving the most pressing mobility challenges 
Over 150 cities, operators and enterprises rely on Vianova's platform to better integrate and manage over 1 million connected vehicles and use data to make more informed, efficient, and effective decisions
Vianova's dashboards and Data Exchange is helping to close the insight gap that is currently holding back transport innovation
The funding will be used to build Vianova's team and fuel further global expansion as part of the company's mission to make transport safer, greener, and connected
Paris, 22 December 2022: Vianova – the leading collaborative mobility data platform unlocking the future of safer, connected, sustainable urban transport for all – has raised €6 million in Series A funding, led by renowned insurance group Baloise. La Poste Ventures operated by XAnge also participated, along with previous investors RATP Capital Innovation, and Ponooc. ​ 
Founded in 2019 by Thibault Castagne, Thibaud Febvre, and Frédéric Robinet, Vianova is on a mission to help cities, mobility providers and enterprises better integrate and manage shared, electric, and autonomous transport solutions to solve pressing mobility challenges such as road safety, reducing transport emissions, and effectively enabling shared mobility. 
With the accelerated development of new forms of urban mobility in recent years, the use of public space has become a challenge. In cities where moving cars has been a priority, shared and sustainable services can struggle to integrate. Left unaddressed, this tension can lead to unprofitable, unsustainable, and unsafe outcomes for new shared mobility. For their development to be successful, cities and mobility operators, therefore, need to be able to work collaboratively. 
Through its cloud-based mobility analytics software, Vianova leverages IoT and data from 1 million+ connected vehicles every day to provide these stakeholders with the most advanced geo-intelligence of its kind. Fleet managers, policymakers, urban planners, data scientists, underwriters, and more can use this data to gain valuable insights and analytics, not only about their own services via customizable dashboards but through shared, collaborative insights accessible using Vianova's Data Exchange. 
Making transport more efficient, greener, and safer for people and goods
Vianova enables cities to better understand the most-used corridors by cyclists, for instance, so they can build or improve their infrastructure. It provides geofencing technology so connected vehicles are parked in the right drop-off zones, and that speed limits are enforced. For instance, in Brussels, Vianova enabled the creation of 120 new geofenced slow-speed, no-go and incentivised parking hubs for riders. This infrastructure reduced pavement clutter and street patrols by 30% - saving resources and improving public opinion of shared mobility. The tool also aggregates telematics data from logistics companies to better understand flows and rethink their logistics infrastructure. 
Meanwhile, mobility operators use Vianova's insights to deal with the 500,000+ shared mobility devices that are parked on curbsides globally - in order to position their fleets in the right areas at the right time, capture demand and increase use. Or they can use the data to better understand their fleet usage, through powerful matrix analysis allowing them to anticipate fleet rebalancing and battery swaps. This in turn can help avoid causing accessibility issues and highlight the most suitable locations for mobility parking, to prevent issues in the first place. 
Vianova's experience working with big data in shared mobility has proven scalable to other markets as well. The company recently developed a Road Safety dashboard in collaboration with leading car manufacturers to help identify road risks and help cities prioritize their Vision Zero (zero road incidents by 2030) investments and strategies. Through machine learning, Vianova can combine several data sources to detect troublesome user behavior such as speeding and heavy braking across European cities, including in Basel and Zurich where early results are promising. With more than 1.3 million people dying worldwide each year as a result of road traffic accidents, 50% of whom are vulnerable road users including pedestrians, cyclists, and motorcyclists, the tool will continue to evolve to support urban planners to improve their ability to identify and resolve safety risks and for insurers to refine their product offerings to encourage safer behavior. 
The far-reaching impact of Vianova's IoT data
Beyond managing today's transport network, Vianova's platform and data exchange is also addressing some of the wider issues facing the global transport industry, namely, rising CO2 emissions, road traffic crashes, pavement clutter, and parking. Following the sharp rise in connected vehicles, the availability of IoT data has soared. Vianova's data exchange ​ references 150+ data sources from leading OEMs, vehicle operators and analytics startups. More than 100 million real-time and historical data points are available each month, all aggregated and anonymised to generate relevant insights while protecting personal privacy. This process enables authorities, operators and organizations to leverage this data effectively to take data-driven, collaborative action across the organization.
For instance, the European Union produces around 2.73 billion tonnes of CO2 each year, of which the transport industry is the second-largest source. Vianova is helping to address this both indirectly, by enabling more effective electrification of the industry, and directly by offering advanced AI-powered emission calculators that customers use to identify where to deploy shared mobility, to see the maximum impact on CO2 levels. All this is supporting the modal shift away from cars towards shared options and helping to address the delivery mayhem caused by the rise in e-commerce. 
Building on momentum
Vianova was born out of its founders' respective experiences across e-mobility, AI, climate, and the automotive industry. CEO Thibault Castagne was formerly a trader and data scientist, with stints at a leading hedge fund and HSBC. He previously founded Spark Horizon, the electric vehicle charging installation and operation startup with COO Thibaud Febvre, a former Product Marketing Manager for Google's AI products. CTO Frédéric Robinet joined Vianova from his role as CTO of Renault-Nissan-Mitsubishi's Connected Cars Platform. Since launching in 2019, this team has grown ten-fold across Paris, London and Zürich.
Vianova currently empowers 150+ global customers, including cities and mobility providers, across Europe, the Middle East, and Australia/New Zealand to easily analyze, visualize and share mobility insights. This number has grown 14% month-on-month since 2020, with the number of active sessions per user rising by 44% month-on-month. 
The latest Series A funding takes the total raised by Vianova to €9 million from investors including Baloise, La Poste Ventures operated by XAnge, RATP Capital Innovation, Ponooc, Contrarian Ventures and Rebel Group. This will be used to build out Vianova's growing team, fuel global expansion and further develop the platform to become the ultimate mobility data platform where those generating data and those looking to solve problems can meet and collaborate. 
Thibault Castagne, co-founder and CEO at Vianova, said: "We started Vianova with the simple idea of bridging the data gap between public authorities (cities) and private transport providers (ride-hailing, shared mobility companies) yet this vision has since grown as we serve more and more use cases and customer segments. Today's funding and the insight our new investors bring will help us continue this growth. It will move us towards our ultimate vision of becoming the most-trusted, multi-sided agnostic data platform, where mobility data producers and mobility data customers meet, collaborate, and trade information to solve their challenges while improving the lives of citizens."
Guillermo Forteza, investment manager at Baloise, said: "From a strategic standpoint, Vianova has the potential to act as key enabler and amplifier in the mobility ecosystem of Baloise, by exploring data partnerships with both our portfolio companies and Baloise insurance core. Insurance as an industry needs effective, up-to-the-minute data so it can better serve its customers and nowhere is this more necessary than when it comes to transport. Vianova is building the essential data infrastructure to transform transport and logistics insurance, through the development of its collaborative platform where cities, operators and insurers can work together to realize the far-reaching potential and benefits of mobility innovation. The team and the technology that Thibault, Thibaud, and Frédéric have built have the power and scale to enable this future and we're thrilled to be investing in them at such an exciting time."
---
Notes for editors 
About Vianova
Vianova is the collaborative big data platform for mobility innovation. Our toolbox empowers organizations to effectively collaborate, use and build solutions that turn complex data into intelligence for solving the most pressing transportation challenges. Vianova supports organizations in writing the next chapter of transport history: from managing shared mobility to taming the chaos at the curb; from creating safer roads to shifting travelers to more sustainable modes, Vianova serves 150+ public authorities and private companies who are trying to move people and goods in a smarter way.
For more information: www.vianova.io